Cleaning is not merely picking up and throwing the trash into the bin, rather, it acts as a powerful motivator for the human brain. This has been proved in many studies over the years, so keeping the office or commercial space clean plays a major role in the company's growth.
A clean office depicts the work culture, professionalism, and persona of the company. A clean environment is not only pleasant for the eyes but for your body and mind too, and also gives the best first impression to the customers irrespective of where it is situated, the size and width of the company, or what the company sells.
So, here are some of the best practices that you must follow in your office cleaning job.
Keep the cleaning supplies right
Having the right cleaning supplies makes cleaning much easier.  A vacuum cleaner to keep the floor dust-free, a broom to remove loose dust, a sponge, and a cleaning solution to clean the surfaces, microfiber clothes to clean the tables and chairs, a screen cleaner, disinfecting wipes and others are the basic essential tools that are needed to keep your office clean and it is very important to keep the washroom and commercial space cleaning supplies separately. Above all, it is very crucial to wear gloves, and a mask, and follow the safety precautions before starting the process of cleaning.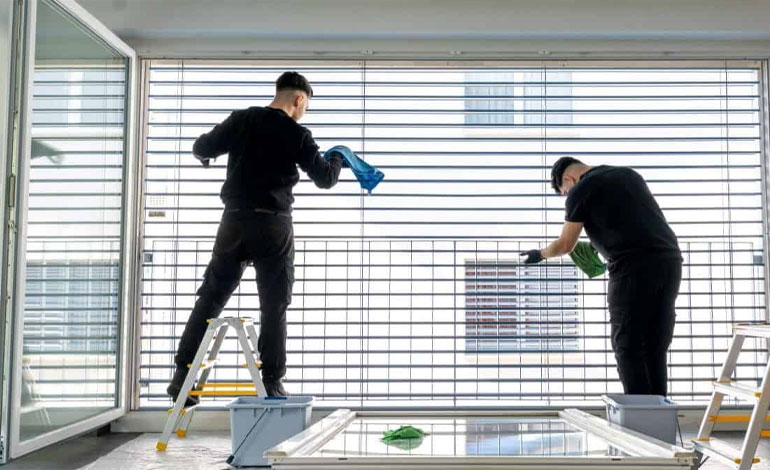 Follow a systematic cleaning schedule
Cleaning the office space regularly is a mandate but with that, it is also important to follow a cleaning schedule. Schedule specific days and times, and ensure that the office is empty during the cleaning.Cleaning the office during working hours might be hazardous and cause physical health problems.  Following a systematic routine helps in keeping the space ready for any uncalled meetings, and unforeseen visits of customers.
Build awareness among employees
As a company or an organization, it is essential to build awareness about the importance of a clean environment among employees. Having awareness of the clean environment encourages the employees to keep their cabin and their surrounding space clean which in turn benefits the company to run smoothly and effectively.
I hope the above office cleaning practices help to attain,an orderly hygienic space so that, the employees stay motivated without any interference and give their best to the company. Now, it's your time to take a call on the cleaning practices followed in your company.