Now that the days have made that slight turn into even colder weather, I look to make all those protruding parts on everyone, warmer.
I found this very sweet idea for Ear Warmers over at Delia Creates.
I doubled up on the fleece and used velcro to close them instead of buttons. This idea is so flexible. I sewed them up in, literally, minutes.
"What do you mean I can only have one??"
Pouty anyone? I have no idea where she gets it from.
I may just whip up a few more of these. The kids love them.
I do too~ (and YES, my head is the same size as my kids' heads).

I asked them to pose. This was what they did.
We were having too much fun!
Seriously.
I also whipped up, quickly, a pair of flannel-lined-bum-warming pants using a pair of jeans that didn't fit me anymore for the outside and some cozy polka dotted flannel for inside.
I like knowing she will be warm walking to school in those cold early mornings!
She likes the pocket.
Hooray for WARM!
*Thanks to my friend Jenn for letting me use her son as a model. He is so stinkin' cute and fun to photograph.
*******
I'm linking to: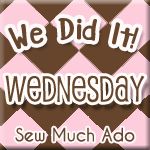 And I was Featured here: